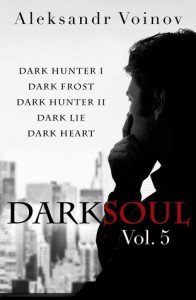 So this is a bittersweet day. I was ecstatic to get DS5 but I also knew that it was the end to one my favorite series.
4.5 stars
Dark Soul 5 brought everything together beautifully. I figured I'd just list everything I loved because I don't think I can put together something more than that at the moment. I'm a bit disheartened that's it's over. So here's are some of my thoughts:
1. Sebastiano - He was a great character, provided more insight into Silvio. I only wished we saw a Silvio/Sebastiano face to face.
2. I loved how Stefano's feelings were all laid out. He held nothing back. At the same time he had to make the tough decision of leaving Silvio. He struggled with Silvio's feelings for him, his doubts were palpable. He felt Gianbattista would always have Silvio's heart. How could he have come to any other decision? Oh and when Silvio thought about his feelings for Gianbattista:
Love as inevitable as death.
This just gave me chills.
3. Silvio - So with Silvio I loved how the author kept us guessing about what he would do to Stefano, both with Augusto's offer and how he would deal with Stefano leaving. I have to admit, my heart was saying he would never hurt Stefano but my head kept that little piece of doubt alive. In the end, I do wish we knew more about how he dealt with Stefano leaving. That would have made this perfect for me.
4. Donata- She was strong and courageous, great development with her character.
5. The suspense - It started with the introduction of Sebastiano and didn't end until the last page.
6. The Puppy - I LOVED SHARKY! The gift, the symbolism, the feelings it invoked in Silvio, everything.
"There's just something fundamentally right about a good-looking guy with a stupidly cute puppy".
Perfect!!!!!
7. The ending - Stefano at gunpoint. This just brought us all back to DS1 and the perfect role reversal.
8. The writing - Once again masterful!
I have so many favorite lines but here are two that just stuck with me:
"Falling in love with you isn't easy. Most people waver between loving you and killing you, and you're usually lucky they come out at the loving side"
And the unforgettable
"Same thing"